I have recently established myself as a white and gold fiend, it's only just occurred to me how well the two melt together in a interior dream. Early on Saturday morning I got a little carried away with setting up my breakfast. I already had the lovely linen table cloth laid out and my fancy napkins, plus a gorgeous bunch of white roses that I bought…for myself.
Bear in mind that I was to dine alone that sunny morning, but I set two places just in case Sunday followed the same pattern. I was lucky enough to inherit some very cute little side plates from my Granny, they're part of a whole tea set, but used casually on top of an almost all white scheme gives it that little sprinkle of colour.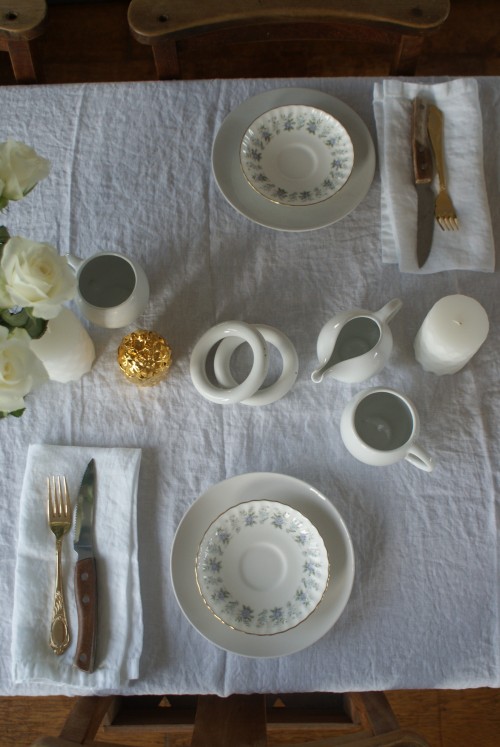 I'm not entirely sure what came over me but a little photo shoot ensued that morning at 7am, possibly because I was alone in the flat and I have a license to be as weird as I want. All sorts of crockery had it's airing, including these gorgeous ceramic salt and pepper shakers I recently received, but had been too scared to place on the table, in case of breakage. Turns out they're pretty hardcore but look and feel super dainty, you could almost use them as large napkin rings.
I promise you I did consume some actual breakfast that morning. The golden pineapple, although not edible, has made it's way from my desk, to my coffee table, my bedside table to the dining table. Isn't it cute? It's a mini candle inside which is slightly scented.
As a comforting touch I always use my old knives and forks which are all differing in shape and size, collected from various antique shops, car boots and my lovely Mum.
I must admit that having these little precious things can make a normal breakfast turn into a very special one, even if you are eating alone, you're worth it.
All images can be found on my Pinterest board – Dining