Table setting has become something of a lost art. Your table setting can be as exciting as the food and in some ways the table and the food can compliment one another. Should you wish to hold a dinner party, however, knowing how to set the table correctly can make a real difference to the overall impression.
Plan your courses first
Before you start arranging the table, you should know how many guests will be arriving, who is sitting where and what courses you will be serving. Remember that in addition to the two or three main courses you plan on serving, thought should also be given to pre-dinner nibbles and coffee and cheese after pudding.
Creating an ambience
You want to create an atmosphere that compliments the occasion, so make sure your dining area is clean and fresh-looking. Remove any clutter from shelves or other furniture in the room that might distract guests' vision. Then spruce up your dining table with a clean, white tablecloth and some freshly cut flowers.
When setting the table, start with place mats and place plates on top. Choose your best china; whether you opt for a vintage or modern set is up to you.
Lighting is key (as always) choose candles or fairy lights for a soft glow that will make your guests look fabulous.
Cutlery and napkins
Note that you will be using different knives for different meals. Remember also to set a separate plate (and knife) for bread and butter. You may now find you have an overwhelming number of knives, forks and spoons for each place setting, and this can seem a little intimidating for the novice: don't panic, however, as the rules are very simple and precise. Forks go to the left of the plate, knives and spoons to its right. Work from the outside inwards, placing the different items in the order in which they will be used.
Napkins should be made of fabric where possible, though you can get some fun disposable ones. Fold them neatly just once and place them to the left of the plate. Keep them in place with napkin rings, which are cheap to buy but look very sophisticated in a table setting.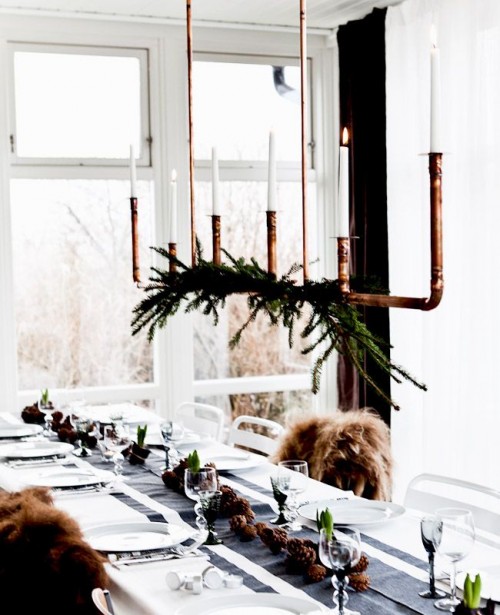 Glassware
Glasses – whether for water or for wine – all belong at the top right of the plate. The water glass should be placed in front, followed by the wine glass. Add in champagne glasses, as they always bring an element of sophistication and fun to any arrangement, plus the excuse to pop a bottle of bubbly!
Remember that setting a table for a dinner party takes time and planning – almost as much as the actual dinner! Follow the formal rules, however, and you should have no problem turning your dinner into a roaring success.